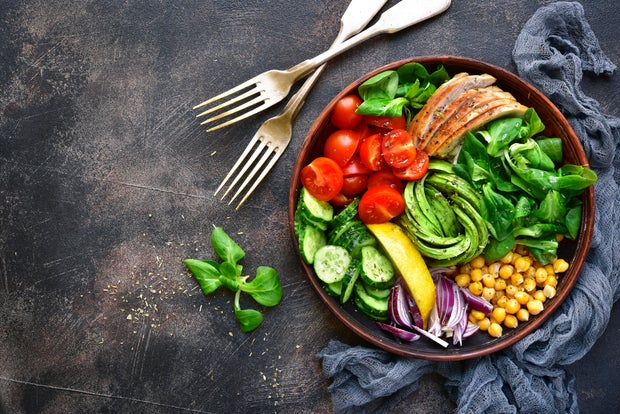 The best healthy meal kits of 2023
For most of us, the importance of a healthy diet is obvious: more energy, a lower risk of serious health problems, all of that good stuff. The hard part is getting there. Building a balanced diet can be enough of a challenge, let alone staying vigilant with it in the long run. 
If you're already groaning at the thought of making major changes to your regular eating habits, you'll be happy to learn that there may be an easier way out of that struggle. 
Meal delivery services are more popular than ever, and for good reason. Companies like HelloFresh have established themselves as the new go-to for easy and nutritious meals that let you bypass lengthy meal prep times and other common roadblocks for the average home-cooked meal.
Many meal kit companies offer plenty of healthy lunch and dinner menus, with a slew of nutrition-packed meals available each week. Some ship a box of fresh, pre-portioned ingredients right to your door.
"Some meal kit companies offer heat-and-serve meals, which may be high in salt and fat," says Anthony DiMarino, and RD and LD, from the Cleveland Clinic's Center for Human Nutrition. But others "deliver fresh ingredients that are healthy."
So if you're interested in the convenience of frozen or premade meals, great! But if health is a priority, focus on the fresh stuff. 
Top 5 healthiest meal kits of 2023

While frozen or premade meals are more likely to come with higher levels of salt and fat, there are benefits to ordering meal kits with fresh, whole or organic ingredients you can cook yourself. 
"You know exactly what's going into your food and can even check calories and macronutrients," says Jennifer May, principle nutritionist and director of Sydney City Nutritionist Nutritionist and Food Intolerance of Australia. 
Striking a healthy balance of macronutrients (carbohydrates, protein, and fat) is important to maintain a healthy diet. We rounded up the best meal kits for this below.
From farm-fresh, organic ingredients to meal plans that cater to certain diets and restrictions, there's plenty to choose from for your next dinner delivery.
Meal kits are great for settling into a healthy eating routine, which is great if meal planning is your greatest enemy. Thankfully, it's never too late to improve your diet and start living healthier, so let's take a look at the meal kits most likely to help with that.
Best plant-based meal kits: Purple Carrot
With its fully plant-based meals, Purple Carrot has plenty to choose from for vegans, vegetarians, and anyone who wants to eat healthier.
It offers delicious, frequently low-calorie, meals each week, like the Kimchi Grilled Cheese Sandwiches with Charred Asparagus and Carrot Fries (a chef favorite), as well as gluten-free and soy-free options for anyone with restrictive diets.
Nutritionwise, Purple Carrot takes the cake compared with your average takeout order or frozen meal. Its plant-based recipes can help lower cholesterol levels over time with leaner meals lower in calories. Every meal kit or premade meal is packed with nutrients, thanks to the recipes created by its chefs.
In addition to healthy meal kits, Purple Carrot has a few more quick and easy choices with its "Low Prep" meals that take little time to prepare. (For the occasional break, you can also find single-serve, premade meals that heat up within minutes, no prep work required.)
You can order up to 10 meals per week, making Purple Carrot a great choice for long-term meal planning.
Purple Carrot prices start at $11 per serving
---
Best selection of organic meals: Daily Harvest
With a menu based on whole fruits and vegetables, Daily Harvest is great for certified organic meals that will help you easily meet daily nutrient goals. You can see the meal kit delivery service's dedication to clean eating in the quality of its food and drinks.
You can find a number of nutrient-packed meals on its weekly menu, including oat bowls, harvest bowls, flatbreads and more. The harvest bowls in particular are great sources of fiber and protein that don't overdo it with calories (think 200 to 400 calories per bowl).
 It's also easy to complement any order with a signature smoothie for a tasty and nutritious punch of flavor.
Strawberry and Peach, Acai and Cherry, Passion Fruit and Pineapple – every smoothie combination looks (and tastes) better than the last. Combine one of these with a hearty harvest bowl for the perfect lunch or dinner treat.
Deliveries are put together one item at a time, so you have the freedom to build your own meal plan each week. Pick anywhere from nine to 24 items each week. 
Daily Harvest prices start at $6 per serving
---
Most exciting variety: SunBasket
SunBasket is one of the leading meal kit companies when it comes to health-conscious dinner ideas. With an impressive weekly menu packed full of organic recipes made from high-quality, farm-fresh ingredients, it is a great alternative to takeout meals.
SunBasket is dedicated to providing USDA-certified organic ingredients with every meal, with the rare nonorganic substitute plainly communicated on a meal's recipe.
This health-forward meal delivery service also works directly with responsible farmers and ranchers to provide its customers with meat and poultry free of any hormones or antibiotics.
Browsing its eclectic menu, you can find a variety of meals to suit any diet. There are meals labeled as free of gluten, dairy or soy. If you want meals that cater to a certain diet, SunBasket once again has you covered: There are plenty of choices that fit a vegan, vegetarian, paleo, or keto diet. 
SunBasket prices start at $12 per serving
---
Best meal kits for vegans: Fresh N' Lean
Fresh N' Lean offers pre-made meals that are healthy and organic, and that cater to one or more dietary restrictions. In addition to vegetarian, paleo, and keto meal options, you can also find a slew of quick and easy vegan meals as well.
Premade meals are the bread and butter for Fresh N' Lean, as the company's menu is filled with dinners that require little to no prep on your end. Meals like the Cilantro Basil Pesto Vegetables or Curry Vegetables and Sweet Potatoes heat up within minutes.
Plenty of Fresh N' Lean's vegan offerings can be eaten hot or cold, which can come in handy on a busy day when you barely have time to make it to the kitchen.
Fresh N' Lean makes the case for premade meals as the healthier alternative to takeout. Its lunch and dinner meals are densely packed with the nutrients, vitamins, and minerals you need.
Fresh N' Lean prices start at $8 per serving
---
Best meal kits for a lean diet: Factor
If you want fresh, ready-made meals that take little to no prep time, then Factor has the nutritious and satisfying meals for you. Its gourmet chefs put together fresh and never-frozen dinners that support healthy eating habits. Anyone whose doctor recommended the switch to a lean diet will find plenty of options to choose from here, with more than 30 dietitian-approved meals to choose from each week.
Factor challenges the myth that a lean diet means avoiding gourmet-level recipes. Meals like Factor's Creamy Parmesan Chicken, Ground Pork and Cheddar Chili Mac, and Garlic-Mushroom Chicken Thighs look almost out of place with a meal delivery service centered around low-carb, health-conscious recipes.
Instead of a subscription model, Factor lets you pick your own items when setting up your weekly deliveries. You can find those and more while you put together a delivery plan that lets you select up to 18 meals each week.
Factor prices start at $11 per item
---
How we picked the best and healthiest meal kits of 2023
A nutritious home-cooked meal is only as good as its ingredients. We took that seriously as we compared different meal kits to find the best ones for a healthy, balanced diet. Dishes with plenty of organic vegetables and a healthy dose of protein were most likely to catch our attention.
We also looked for weekly menus that catered to a variety of eating habits: vegan meal plans, lean recipes with low calorie counts, and plant-based meal delivery services helped certain meal kits stand out amongst the rest. 
A few more things we considered when putting together our list of the healthiest meal kits of 2023 include:
Meal variety: Eating the same three meals week after week can be a real slog. It's the reason many of us lapse on

boring fad diets

. An impressive selection of healthy meal kits that keeps you coming back each week was important to us.
Fresh ingredients: We picked meal kit companies that built a reputation for shipping out organically sourced, farm-fresh ingredients to their customers with every delivery.
Menu substitutions: The ability to easily swap out certain meals (or individual ingredients) is great for meeting customers where they're at. We sided with meal kit companies that keep it simple when it comes to building your ideal meal plan.
High quality recipes: Let's be honest: you want healthy meals that are also delicious. We stuck to our guns and kept our standards high by picking meal kit companies that serve up unique and tasty recipes on a regular basis. 
Read more about how we review products
Related Posts