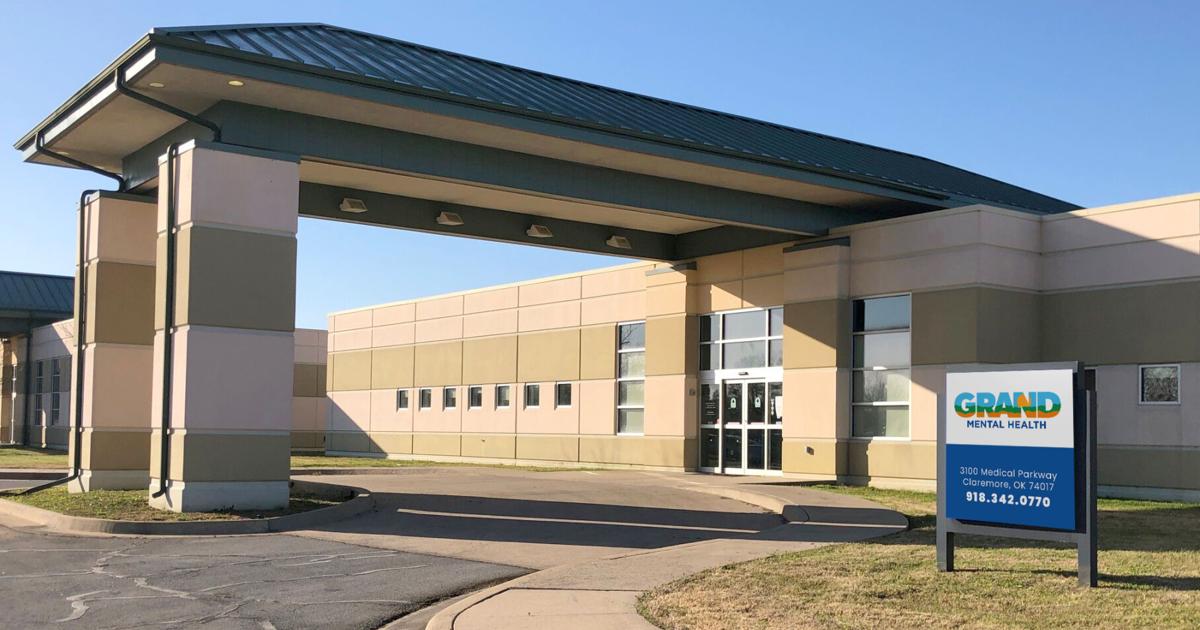 Mental Health Month: Awareness removes stigma | News
One Oklahoma mental health worker believes "awareness and acceptance" contribute to Oklahoma's growth in demand for mental health services.
Laura Dyer Smith, Region 2 administrator for Grand Mental Health – formerly Grand Lake Mental Health, serving Rogers, Mayes and Delaware counties – focuses on the positive side of this trend.
"I've worked 14 years at Grand and feel the push to end the negative stigma around seeking mental health services, growing awareness of the need, acceptance" are behind the constant growth, Smith said.
In her region alone, 70-to-100 new clients are seen every month.
"It seems both the need and the acceptance levels are growing. All mental health services are in high demand. There seems to have been a shift of acceptance to some degree of the need of these services. People are willing to seek help when needed," she said.
Grand serves everyone, birth to death, accepting public and private insurance with fees based on a sliding scale. Crisis and referral services are available to all, regardless of health care coverage.
"We are currently serving 2,936 clients out of Rogers County. We have 278 staff that work in our Rogers County office," Smith said.
Grand's Region 2 counties have five service sites including the Rogers County Clinic at 3100 Medical Parkway, Claremore, and 24/7 URCs (Urgent Recovery Clinic) in Mayes County. The entire agency serves 12 counties at 20 sites.
For Grand's counselors, therapists and health professionals providing "quality, personalized" mental health care is an around-the-clock mission.
Smith calls it an "anytime, anywhere" approach.
LAW ENFORCEMENT, SCHOOL PARTNERSHIPS
Grand has staff members working in several Rogers County schools and are available upon invitation to work in every school.
Starting at the end of 2022, working with Undersheriff John Sappington, the Grand staff – for the first time in history – began working inside the Rogers County Jail and has now served over 100 inmates.
"Rogers County is the first to do it," Smith said. "It is cutting edge. It is exciting to have inmates receiving services before they are released. We provide mental health screenings, establish them as clients before they leave."
Staff work to set up their treatment and link them to services they can access while in jail and afterward. This includes access to continuing therapies, medication services and even work and educational connections.
Grand also partners with local law enforcement agencies. They equip each patrol car with an iPad that is ready for an officer – or an individual an officer may encounter – to contact a licensed professional right away via video call. This helps officers in deescalating serious situations and provides those in serious distress or crisis with immediate support.
The 24/7 crisis team is also available for law enforcement officers who would like to benefit themselves from advice, support, or professional counseling from mental health experts via these iPads.
Crisis Intervention Training is intermittently offered for any law enforcement that would like to learn how to de-escalate potentially violent situations involving people suffering mental illness and get them the help they need, instead of jail time.
For information on when the next training is available, contact Matthew Spencer, MA, LPC 918-418-9238.
Training is made available to law agencies including Mental Health First Aid for First Responders, Critical Incident Debrief, CLEET Courses, iPad Procedure, and Peer Recovery. Contact Jim Warring, law enforcement engagement officer, for more details, at 918-845-6184.
STAFFING
Grand currently has 133 job openings posted on its website at grandmh.comcareers/#currentjobs. The Health Resources and Services Administration reports "all 77 counties in Oklahoma face a shortage of mental health providers."
While the Rogers County clinic is "doing OK" because "we work as a team" and offer competitive salaries, Smith said mental health services, in general, are understaffed at every agency in every area.
"There's just not enough therapists in the field," she said.
SERVICES
Grand provides crisis services and emergency intervention, therapy services (individual, family, and group), virtual services with a secure MyCare video app, and medication management (including in-office and virtual appointments and prescriptions). Case managers assist with matching services to needs including medical, behavioral health, housing, employment, social and educational.
Specific programs for substance abuse include Certified Peer Recovery Support Specialists, Adolescent Community Reinforcement Approach (A-CRA) for teens and young adults, Celebrating Families: For Parents, MAT (Medication Assisted Treatment) for Opioid Addiction, IOP (Intensive Outpatient Program): A 12-Week Program, Oklahoma Families First Project (OFFP): Pregnancy and Substance Abuse.
Grand is also a Narcan distributor. Smith said anyone, anytime can get pick up one Narcan by coming to the Center at 3100 Medical Parkway. Individuals asked to complete a survey and can leave with the Narcan for self-use or for a "loved one."
Formerly known as Grand Lake Mental Health Center, Grand Mental Health serves 12 Oklahoma counties at 20 clinics.
Related Posts